"In the Arena" – The Story of Community Action in Wisconsin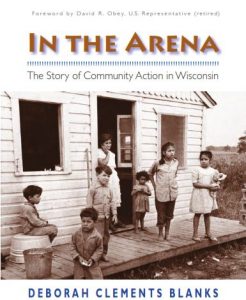 Inside In the Arena, author Deborah Blanks chronicles the grand story of Wisconsin's community action agencies in engaging with low-income individuals towards economic opportunities.
Full Description
Wisconsin's community action agencies were formed out of the crucible of the "War on Poverty" in the 1960s, and since their inception fifty years ago, they have been working to help low-income individuals and families partake on an equal footing in the economic and social life of their communities. How this came about is the story of "In the Arena". It is a grand story, an adventure dealing with important issues and interesting individuals. Like all adventures, the story of community action in Wisconsin has its share of good guys and villains; of advances and setbacks; of successes and failures; of humor and optimism; and of sadness and fear. But beyond all that, it is a story of people—people believing in their ability to effectuate change, believing in the dream of opportunity for their local communities, believing in the worth and value of their fellow low-income neighbors.
About the Author
Deborah Clements Blanks is a clinical assistant professor at the University of Wisconsin- Milwaukee (UWM) in the School of Education, Department of Educational Policy and Community Studies. Blanks was the CEO of the Social Development Commission (SDC) from 1997 to 2013. Previously, Blanks was the Purchasing Director for the City of Milwaukee and the Disadvantaged Business Development Director for the Milwaukee County. Blanks earned her Masters Degrees in Educational Psychology and in Public Administration from the University of Illinois, Champaign-Urbana. Currently she is a doctoral candidate in UWM's Urban Studies Department focusing on issues of poverty, race, class, and family. Blanks is also the author of the book, Weaving Diversity into the Fabric of America, which is a practical guide for community leaders, business managers, agency workers, and educators committed to maximizing the strengths of our richly diverse people.