Economic Renewal
The Jobs and Business Development (JBD) program helps low-income individuals to create their own full-time job through small business development. Low-income individuals interested in entrepreneurship receive a variety of services to help them successfully open their own business, including:
Creation of business feasibility studies.
Creation of business, financial and marketing plans.
Development of business management skills.
Resolution of credit issues.
Assistance accessing financial resources.
Business expansion assistance to create additional jobs
Through funding from the Wisconsin Department of Workforce Development (DWD), eight of the state's Community Action Agencies offer JBD programs.  Since its inception in 1989, the JBD program has created more than 2,200 new businesses and 6,200 new jobs.
As a result of JBD program services, many participants and their families no longer rely on financial support programs. Instead, they have found a path out of a low-wage job, the ability to maintain their own job as a small business owner, and the opportunity to build a financial asset as their business grows.
Have a question about the Job & Business Development Program? Reach out to WISCAP's Program Manager, Heidi O'Brien hobrien@wiscap.org
Job & Business Development Stories
S & B Alteration LLC, Bao Xiong, Owner
Fond du Lac, WI | Assisted by ADVOCAP, Inc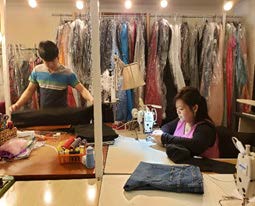 Bao Xiong started her alteration business in 2018 with a $3,000 SBA Micro loan and the help of ADVOCAP's business technical assistance. In 2019, S&B Alteration LLC expanded, created 2 new jobs, and purchased a building in Downtown Fond du Lac.
S&B Alteration LLC provides clothing alteration and specializes in wedding and special occasion attire. Prior to the pandemic, customers from throughout the Midwest sought Bao's workmanship specializing in precise sewing of intricate beads onto formal attire. As the pandemic limited special occasion gatherings and customers limited travel, S & B Alteration has experienced a significant decrease in sales. To help the business survive, ADVOCAP helped Bao access a small PPP Loan and is providing on-going business survival technical assistance.
Lily Pad Floral & Gifts, LLC, Stacy Merritt, Owner
Plainfield, WI 54966 | Assisted by CAP Services, Inc.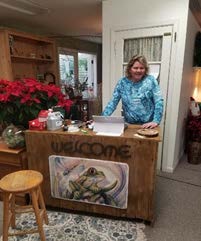 With CAP Services' help, Stacy negotiated with the owner of Flowers by Ken to purchase the business. As part of the purchase deal, the retiring owners agreed to mentor her to help maintain the successful business.
Stacy sought financing to purchase the business and presented her loan request to the CAP Services loan committee in March just prior to Gov Evers order to close non-essential businesses during the first wave of the pandemic. The loan committee put approval on hold due to the pandemic. During a two month wait for loan approval, CAP Services continued to work with Stacy to strengthen her business plan and implement pandemic-related business and safety measures. In May of 2020, Stacey's business loan was approved, and she became the owner of Lily Pad Floral.
Revita Dance Studio, Inc., Carolina Bucker Menke, Owner
Westfield, WI 53964 | Assisted by CAP Services, Inc.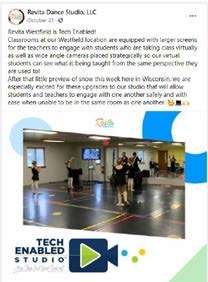 Carolina Bucker Menke began teaching dance at Revita Dance Studio shortly after moving to Wisconsin from Brazil and purchased the business in 2007. CAP Services began working with Carolina in 2013 to help support her business and in 2019 Revita Dance won CAP Services' 2019 Business Contest. Carolina used the cash prize and expanded technical assistance to add a third classroom.
The pandemic has posed a unique challenge as Revita Dance could not offer in-person classes and did not have adequate equipment to teach virtually. Carolina asked CAP Services to assist her in developing a virtual studio to offer online classes to students during the pandemic. Revita Dance Studio received a $1,650 Capital Catalyst Grant from CAP Services and $8,350 in CAP loans in June 2020 to purchase the technology needed to teach virtually.
Annie's Fountain City Café, LLC, Ann Culver, Owner
Fond du Lac, WI | Assisted by ADVOCAP, Inc.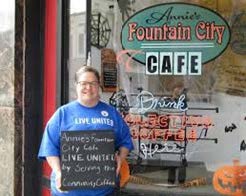 Following her life-long dream to own her own café, Annie began serving coffee, pastries, and sandwiches to hungry downtown visitors in January of 2017. Prior to the pandemic, Annie's Fountain City Cafe was well received in Fond du Lac and expanded to include evening hours and functions for groups.
While Annie's outgoing personality and community involvement ensures repeat customers, the pandemic has dramatically reduced daily revenues. To help Annie stay in business, ADVOCAP helped her access emergency assistance including the SBA Micro-loan, a PPP loan, an EIDL loan, a State of Wisconsin grant for small businesses, and grants from the City of Fond du Lac and Downtown Fond du Lac Partnership. These financial resources and ADVOCAP's technical assistance have helped Annie's Fountain City Café stay open during the pandemic.